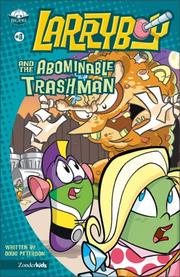 FC Pete
Larryboy and the Abominable Trashman!
Grand Rapids, Mich. : Zonderkidz, c2004.
96 p. : ill. ; 22 cm.
Awful Alvin has unleashed a fearsome monster made of garbage on the city of Bumblyburg, and it is up to superhero Larryboy to throw the creature out--but first, with God's help, he must battle his own fears.
Overdue
Regular
All copies at Park Street Church are out and at least one is overdue
| | |
| --- | --- |
| ISBN: | |
| LC Call No: | PZ7.P44334 Lar 2004 |
| Dewey Class No: | [Fic] 22 |
| Author: | |
| Title: | Larryboy and the Abominable Trashman! / written by Doug Peterson ; illustrated by Michael Moore. |
| Edition: | 1st ed. |
| Publisher: | Grand Rapids, Mich. : Zonderkidz, c2004. |
| Physical: | 96 p. : ill. ; 22 cm. |
| Series: | |
| Series: | |
| Notes: | Based on the hit video series : Larryboy; created by Phil Vischer; series adapted by Tom Bancroft. |
| Summary: | Awful Alvin has unleashed a fearsome monster made of garbage on the city of Bumblyburg, and it is up to superhero Larryboy to throw the creature out--but first, with God's help, he must battle his own fears. |
| Target Audience: | |
| Subject: | |
| Subject: | |
| Subject: | |
| Subject: | |
| Subject: | |
| Subject: | |
| AE:PersName: | |
| AE:UnifTitle: | |
| Link: | |
| Link: | |
| Field | Ind | Subfield | Data |
| --- | --- | --- | --- |
| 001 Control No | | | 1734 |
| 005 LastTransaction | | | 20191110110636.0 |
| 008 Data Elements | | | 031027s2004 miua c 000 1 eng |
| 010 LCCN | | $a Record content licensor | 2003023560 |
| 020 ISBN | | $a ISBN | 0310706521 (Softcover) |
| 035 System Ctrl No | | $a System control number | (DLC) 2003023560 |
| 040 Cataloging Src | | $a Original cataloging agency | DLC |
| | | $c Transcribing agency | DLC |
| | | $d Modifying agency | DLC |
| 042 Authentication | | $a Authentication code | lcac |
| 050 LC Call No | 00 | $a Classification number | PZ7.P44334 |
| | | $b Item number | Lar 2004 |
| 082 Dewey Class No | 00 | $a Classification number | [Fic] |
| | | $2 Edition number | 22 |
| 100 ME:PersonalName | 1 | $a Personal name | Peterson, Doug. |
| 245 Title | 10 | $a Title | Larryboy and the Abominable Trashman! / |
| | | $c Statement of responsibility | written by Doug Peterson ; illustrated by Michael Moore. |
| 250 Edition | | $a Edition statement | 1st ed. |
| 260 PublicationInfo | | $a Place of publication, dist. | Grand Rapids, Mich. : |
| | | $b Name of publisher, dist, etc | Zonderkidz, |
| | | $c Date of publication, dist, etc | c2004. |
| 300 Physical Desc | | $a Extent | 96 p. : |
| | | $b Other physical details | ill. ; |
| | | $c Dimensions | 22 cm. |
| 440 Series Title | 0 | $a Title | Big idea books |
| 440 Series Title | 0 | $a Title | Larryboy (Series) ; |
| | | $v Vol. no./sequential designtion | #8 |
| 500 General Note | | $a General note | Based on the hit video series : Larryboy; created by Phil Vischer; series adapted by Tom Bancroft. |
| 520 Summary | | $a Summary, etc. note | Awful Alvin has unleashed a fearsome monster made of garbage on the city of Bumblyburg, and it is up to superhero Larryboy to throw the creature out--but first, with God's help, he must battle his own fears. |
| 521 Target Audience | 1 | $a Target audience note | 8-12. |
| 650 Subj:Topic | 1 | $a Topical term | Monsters |
| | | $v Form subdivision | Fiction. |
| 650 Subj:Topic | 1 | $a Topical term | Refuse and refuse disposal |
| | | $v Form subdivision | Fiction. |
| 650 Subj:Topic | 1 | $a Topical term | Heroes |
| | | $v Form subdivision | Fiction. |
| 650 Subj:Topic | 1 | $a Topical term | Fear |
| | | $v Form subdivision | Fiction. |
| 650 Subj:Topic | 1 | $a Topical term | Reporters and reporting |
| | | $v Form subdivision | Fiction. |
| 650 Subj:Topic | 1 | $a Topical term | Christian life |
| | | $v Form subdivision | Fiction. |
| 700 AE:PersName | 1 | $a Personal name | Moore, Michael, |
| | | $e Relator | ill. |
| 730 AE:UnifTitle | 0 | $a Uniform title heading | Larryboy. |
| 852 Holdings | 1 | $h Classification part | FC Pete |
| | | $a Location | PSC |
| | | $p Barcode | 1908 |
| | | $9 Cost | $0.00 |
| 856 ElectronicLocat | 42 | $3 Materials specified | Publisher description |
| | | $u Uniform Resource Identifier | http://www.loc.gov/catdir/enhancements/fy0633/2003023560-d.html |
| 856 ElectronicLocat | 4 | $3 Materials specified | Cover image |
| | | $u Uniform Resource Identifier | https://covers.openlibrary.org/b/id/1166552-M.jpg |