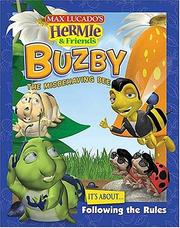 FC Schmi
Buzby the misbehaving bee / it's about following the rules
Nashville, Tenn. : Tommy Nelson, c2005.
1 v. (unpaged) : col. ill. ; 29 cm.
Buzby thinks he is too cool for rules, and ladybug twins Hailey and Bailey admire him for it, until he lets a huge frog into the garden, putting everyone at risk, and finally must ask God for forgiveness and help.
Overdue
Hardback Book
All copies at Park Street Church are out and at least one is overdue
| | |
| --- | --- |
| ISBN: | |
| LC Call No: | PZ7.S3565 Bu 2005 |
| Dewey Class No: | [E] 22 |
| Author: | |
| Title: | Buzby the misbehaving bee / story by Troy Schmidt ; illustrations by GlueWorks Animation : it's about following the rules. |
| Publisher: | Nashville, Tenn. : Tommy Nelson, c2005. |
| Physical: | 1 v. (unpaged) : col. ill. ; 29 cm. |
| Series: | |
| Notes: | "Max Lucado's Hermie & friends." |
| Notes: | "Based on the characters from Max Lucado's Hermie: A Common Caterpillar.". |
| Summary: | Buzby thinks he is too cool for rules, and ladybug twins Hailey and Bailey admire him for it, until he lets a huge frog into the garden, putting everyone at risk, and finally must ask God for forgiveness and help. |
| Subject: | |
| Subject: | |
| Subject: | |
| Subject: | |
| Subject: | |
| Subject: | |
| AE:CorpName: | GlueWorks Animation. |
| Link: | |
| Link: | |
| Field | Ind | Subfield | Data |
| --- | --- | --- | --- |
| 001 Control No | | | 5427 |
| 005 LastTransaction | | | 20200113065250.0 |
| 008 Data Elements | | | 040930s2005 tnua a 000 1 eng |
| 010 LCCN | | $a Record content licensor | 2004020827 |
| 020 ISBN | | $a ISBN | 978-1-40030510-0 (hardback) : |
| | | $c Terms of availability | $12.99 |
| 035 System Ctrl No | | $a System control number | 13736788 |
| 040 Cataloging Src | | $a Original cataloging agency | DLC |
| | | $c Transcribing agency | DLC |
| | | $d Modifying agency | DLC |
| 042 Authentication | | $a Authentication code | lcac |
| 050 LC Call No | 00 | $a Classification number | PZ7.S3565 |
| | | $b Item number | Bu 2005 |
| 082 Dewey Class No | 00 | $a Classification number | [E] |
| | | $2 Edition number | 22 |
| 100 ME:PersonalName | 1 | $a Personal name | Schmidt, Troy. |
| 245 Title | 10 | $a Title | Buzby the misbehaving bee / |
| | | $c Statement of responsibility | story by Troy Schmidt ; illustrations by GlueWorks Animation : |
| | | $b Remainder of title | it's about following the rules. |
| 260 PublicationInfo | | $a Place of publication, dist. | Nashville, Tenn. : |
| | | $b Name of publisher, dist, etc | Tommy Nelson, |
| | | $c Date of publication, dist, etc | c2005. |
| 300 Physical Desc | | $a Extent | 1 v. (unpaged) : |
| | | $b Other physical details | col. ill. ; |
| | | $c Dimensions | 29 cm. |
| 440 Series Title | 0 | $a Title | Max Lucado's Hermie & Friends |
| 500 General Note | | $a General note | "Max Lucado's Hermie & friends." |
| 500 General Note | | $a General note | "Based on the characters from Max Lucado's Hermie: A Common Caterpillar.". |
| 520 Summary | | $a Summary, etc. note | Buzby thinks he is too cool for rules, and ladybug twins Hailey and Bailey admire him for it, until he lets a huge frog into the garden, putting everyone at risk, and finally must ask God for forgiveness and help. |
| 650 Subj:Topic | 1 | $a Topical term | Behavior |
| | | $v Form subdivision | Fiction. |
| 650 Subj:Topic | 1 | $a Topical term | Rules (Philosophy) |
| | | $v Form subdivision | Fiction. |
| 650 Subj:Topic | 1 | $a Topical term | Conduct of life |
| | | $v Form subdivision | Fiction. |
| 650 Subj:Topic | 1 | $a Topical term | Bees |
| | | $v Form subdivision | Fiction. |
| 650 Subj:Topic | 1 | $a Topical term | Insects |
| | | $v Form subdivision | Fiction. |
| 650 Subj:Topic | 1 | $a Topical term | Frogs |
| | | $v Form subdivision | Fiction. |
| 710 AE:CorpName | 2 | $a Corporate name | GlueWorks Animation. |
| 852 Holdings | | $a Location | PSC |
| | | $h Classification part | FC Schmi |
| | | $p Barcode | 4222 |
| | | $9 Cost | $0.00 |
| 856 ElectronicLocat | 42 | $3 Materials specified | Publisher description |
| | | $u Uniform Resource Identifier | http://www.loc.gov/catdir/enhancements/fy0616/2004020827-d.html |
| 856 ElectronicLocat | 4 | $3 Materials specified | Cover image |
| | | $u Uniform Resource Identifier | https://covers.openlibrary.org/b/id/748423-M.jpg |