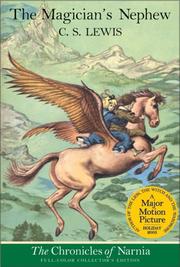 FC Lewis, C.S.
The Silver Chair / Book 6
New York : Harper Trophy, 2000, [c1952, 1980].
243 p. : ill. ; 20 cm.
Two English children undergo hair-raising adventures as they go on a search and rescue mission for the missing Prince Rilian, who is held captive in the underground kingdom of the Emerald Witch.
Available
Regular
1 copy available at Park Street Church
| | |
| --- | --- |
| ISBN: | |
| ISBN: | |
| ISBN: | |
| ISBN: | |
| ISBN: | |
| ISBN: | |
| ISBN: | |
| Author: | |
| Title: | The Silver Chair / C.S. Lewis ; illustrated by Pauline Baynes : Book 6. |
| Edition: | Full-color collector's edition, 1st Harper Trophy ed. |
| Publisher: | New York : Harper Trophy, 2000, [c1952, 1980]. |
| Physical: | 243 p. : ill. ; 20 cm. |
| Series: | |
| Notes: | Full-color collector's edition. |
| Notes: | This edition of The Chronicles of Narnia have been renumbered in compliance with the original wishes of the author. |
| Notes: | For the first time these books are available with full-color complete interior illustrations by Pauline Baynes and a full-color jacket that Ms. Baynes created for the books in the 1950s. |
| Summary: | Two English children undergo hair-raising adventures as they go on a search and rescue mission for the missing Prince Rilian, who is held captive in the underground kingdom of the Emerald Witch. |
| Subject: | |
| Subject: | |
| AE:PersName: | |
| Link: | |
| Link: | |
| Field | Ind | Subfield | Data |
| --- | --- | --- | --- |
| 001 Control No | | | 5559 |
| 005 LastTransaction | | | 20141012141620.0 |
| 008 Data Elements | | | 010531t20001983nyua 000 0 eng d |
| 020 ISBN | | $a ISBN | 978-0-06-440945-2 (Book 6) |
| 020 ISBN | | $a ISBN | 978-0-06-440942-1 (Book 2) |
| 020 ISBN | | $a ISBN | 978-0-06-440940-7 (Book 3) |
| 020 ISBN | | $a ISBN | 978-0-06-440944-5 (Book 4) |
| 020 ISBN | | $a ISBN | 978-0-06-440946-9 (Book 5) |
| 020 ISBN | | $a ISBN | 978-0-06-440945-2 (Book 6) |
| 020 ISBN | | $a ISBN | 978-0-06-440941-4 (Book 7) |
| 035 System Ctrl No | | $a System control number | tcgc300150 |
| 035 System Ctrl No | | $a System control number | (OCoLC)47045382 |
| 035 System Ctrl No | | $a System control number | 3853 |
| 040 Cataloging Src | | $a Original cataloging agency | A4C |
| | | $c Transcribing agency | A4C |
| | | $d Modifying agency | OCLCQ |
| | | $d Modifying agency | WMC |
| 090 | | $a | PR6023.E926 |
| | | $b | C5 2000 |
| 092 | | $a | 823.912 |
| | | $b | L673c |
| 100 ME:PersonalName | 1 | $a Personal name | Lewis, C. S. (Clive Staples) |
| | | $q Fuller form of name | (Clive Staples), |
| | | $d Dates associated with a name | 1898-1963. |
| 245 Title | 14 | $a Title | The Silver Chair / |
| | | $c Statement of responsibility | C.S. Lewis ; illustrated by Pauline Baynes : |
| | | $b Remainder of title | Book 6. |
| 250 Edition | | $a Edition statement | Full-color collector's edition, 1st Harper Trophy ed. |
| 260 PublicationInfo | | $a Place of publication, dist. | New York : |
| | | $b Name of publisher, dist, etc | Harper Trophy, |
| | | $c Date of publication, dist, etc | 2000, [c1952, 1980]. |
| 300 Physical Desc | | $a Extent | 243 p. : |
| | | $b Other physical details | ill. ; |
| | | $c Dimensions | 20 cm. |
| 440 Series Title | 4 | $a Title | The Chronicles of Narnia, renumbered for author's wishes |
| 500 General Note | | $a General note | Full-color collector's edition. |
| 500 General Note | | $a General note | This edition of The Chronicles of Narnia have been renumbered in compliance with the original wishes of the author. |
| 500 General Note | | $a General note | For the first time these books are available with full-color complete interior illustrations by Pauline Baynes and a full-color jacket that Ms. Baynes created for the books in the 1950s. |
| 505 ContentsNote | 0 | $a Formatted contents note | Book 1. The magician's nephew -- Book 2. The lion, the witch and the wardrobe -- Book 3. The horse and his boy -- Book 4. Prince Caspian -- Book 5. The voyage of the Dawn Treader -- Book 6. The silver chair -- Book 7. The last battle. |
| 520 Summary | | $a Summary, etc. note | Two English children undergo hair-raising adventures as they go on a search and rescue mission for the missing Prince Rilian, who is held captive in the underground kingdom of the Emerald Witch. |
| 650 Subj:Topic | 0 | $a Topical term | Series: Narnia |
| 650 Subj:Topic | 0 | $a Topical term | Fantasy. |
| 700 AE:PersName | 1 | $a Personal name | Baynes, Pauline. |
| 740 AE:DiffTitle | 02 | $a Different title | Magician's nephew. |
| 740 AE:DiffTitle | 02 | $a Different title | Lion, the witch and the wardrobe. |
| 740 AE:DiffTitle | 02 | $a Different title | Horse and his boy. |
| 740 AE:DiffTitle | 02 | $a Different title | Prince Caspian. |
| 740 AE:DiffTitle | 02 | $a Different title | Voyage of the Dawn Treader. |
| 740 AE:DiffTitle | 02 | $a Different title | Silver chair. |
| 740 AE:DiffTitle | 02 | $a Different title | Last battle. |
| 852 Holdings | | $a Location | PSC |
| | | $h Classification part | FC Lewis, C.S. |
| | | $p Barcode | 2506 |
| | | $9 Cost | $0.00 |
| 856 ElectronicLocat | 4 | $3 Materials specified | Cover image |
| | | $u Uniform Resource Identifier | https://covers.openlibrary.org/b/id/50519-M.jpg |
| 856 ElectronicLocat | 4 | $3 Materials specified | Author photo |
| | | $u Uniform Resource Identifier | https://covers.openlibrary.org/a/olid/OL31574A-M.jpg |