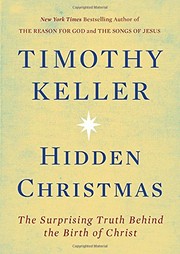 232.9 Kell
Hidden Christmas : the surprising truth behind the birth of Christ
Viking New York, NY.
vii, 148 pages ; 20 cm.
"Even people who are not practicing Christians think they are familiar with the story of the nativity. Every Christmas displays of Baby Jesus resting in a manger decorate lawns and churchyards, and songs about shepherds and angels fill the air. Yet despite the abundance of these Christian references in popular culture, how many of us have examined the hard edges of this biblical story? In his new book Timothy Keller takes readers on an illuminating journey into the surprising background of the nativity. By understanding the message of hope and salvation within the Bible's account of Jesus' birth, readers will experience the redeeming power of God's grace in a deeper and more meaningful way,"--Amazon.com.
Available
Hardback Book
1 copy available at Park Street Church
| | |
| --- | --- |
| ISBN: | |
| ISBN: | |
| Author: | |
| Title: | Hidden Christmas : the surprising truth behind the birth of Christ / Timothy Keller. |
| Publisher: | Viking New York, NY. |
| Physical: | vii, 148 pages ; 20 cm. |
| ContentType: | |
| MediaType: | |
| CarrierType: | |
| BibliogrphyNote: | Includes bibliographical references. |
| Summary: | "Even people who are not practicing Christians think they are familiar with the story of the nativity. Every Christmas displays of Baby Jesus resting in a manger decorate lawns and churchyards, and songs about shepherds and angels fill the air. Yet despite the abundance of these Christian references in popular culture, how many of us have examined the hard edges of this biblical story? In his new book Timothy Keller takes readers on an illuminating journey into the surprising background of the nativity. By understanding the message of hope and salvation within the Bible's account of Jesus' birth, readers will experience the redeeming power of God's grace in a deeper and more meaningful way,"--Amazon.com. |
| Subject: | Jesus Christ--Nativity. |
| Subject: | |
| Subject: | |
| Subject: | |
| Link: | |
| Field | Ind | Subfield | Data |
| --- | --- | --- | --- |
| 001 Control No | | | 6021 |
| 005 LastTransaction | | | 20191110110542.0 |
| 008 Data Elements | | | 160927t20162016nyu b 000 0 eng |
| 010 LCCN | | $a Record content licensor | 2016044011 |
| 020 ISBN | | $a ISBN | 978-0-7352-2165-9 (hardcover) |
| 020 ISBN | | $a ISBN | 978-0-7352-2165-9 (hardcover) |
| 035 System Ctrl No | | $a System control number | (OCoLC)944380328 |
| 035 System Ctrl No | | $a System control number | (OCoLC)944380328 |
| 040 Cataloging Src | | $a Original cataloging agency | DLC |
| | | $b Language of cataloging | eng |
| | | $e Description conventions | rda |
| | | $c Transcribing agency | DLC |
| | | $d Modifying agency | YDXCP |
| | | $d Modifying agency | BTCTA |
| | | $d Modifying agency | BDX |
| | | $d Modifying agency | ILC |
| | | $d Modifying agency | OCLCO |
| | | $d Modifying agency | BLP |
| | | $d Modifying agency | ON8 |
| | | $d Modifying agency | JNE |
| | | $d Modifying agency | LIQ |
| | | $d Modifying agency | SO$ |
| | | $d Modifying agency | IGA |
| | | $d Modifying agency | BSC |
| 042 Authentication | | $a Authentication code | pcc |
| 092 | | $a | 232.92 |
| | | $b | K2919h, 2016 |
| 100 ME:PersonalName | 1 | $a Personal name | Keller, Timothy, |
| | | $d Dates associated with a name | 1950-, |
| | | $e Relator term | author. |
| 245 Title | 10 | $a Title | Hidden Christmas : |
| | | $b Remainder of title | the surprising truth behind the birth of Christ / |
| | | $c Statement of responsibility | Timothy Keller. |
| 260 PublicationInfo | | $b Name of publisher, dist, etc | Viking |
| | | $a Place of publication, dist. | New York, NY. |
| 263 ProjectdPublish | | $a Projected publication date | 1610 |
| 264 ProductnNotice | 1 | $a Place of prod/dist/manuf. | New York, New York : |
| | | $b Name of prod./pub./dist./man. | Viking, |
| | | $c Date of prod/dist/manuf/copyrt | [2016] |
| 264 ProductnNotice | 4 | $c Date of prod/dist/manuf/copyrt | ©2016 |
| 300 Physical Desc | | $a Extent | vii, 148 pages ; |
| | | $c Dimensions | 20 cm. |
| 336 ContentType | | $a Content type term | text |
| | | $b Content type code | txt |
| | | $2 Source | rdacontent |
| 337 MediaType | | $a Media type term | unmediated |
| | | $b Media type code | n |
| | | $2 Source | rdamedia |
| 338 CarrierType | | $a Carrier type term | volume |
| | | $b Carrier type code | nc |
| | | $2 Source | rdacarrier |
| 504 BibliogrphyNote | | $a Bibliography, etc. note | Includes bibliographical references. |
| 505 ContentsNote | 0 | $a Formatted contents note | A light has dawned -- The mothers of Jesus -- The fathers of Jesus -- Where is the King? -- Mary's faith -- Shepherds' faith -- A sword in the soul -- The doctrine of Christmas. |
| 520 Summary | | $a Summary, etc. note | "Even people who are not practicing Christians think they are familiar with the story of the nativity. Every Christmas displays of Baby Jesus resting in a manger decorate lawns and churchyards, and songs about shepherds and angels fill the air. Yet despite the abundance of these Christian references in popular culture, how many of us have examined the hard edges of this biblical story? In his new book Timothy Keller takes readers on an illuminating journey into the surprising background of the nativity. By understanding the message of hope and salvation within the Bible's account of Jesus' birth, readers will experience the redeeming power of God's grace in a deeper and more meaningful way,"--Amazon.com. |
| 600 Subj:Name | 00 | $a Personal name | Jesus Christ |
| | | $x General subdivision | Nativity. |
| 650 Subj:Topic | 0 | $a Topical term | Christmas. |
| 650 Subj:Topic | 0 | $a Topical term | Christianity |
| | | $x General subdivision | Essence, genius, nature. |
| 650 Subj:Topic | 0 | $a Topical term | Christian life. |
| 776 | 08 | $i | Online version: |
| | | $a | Keller, Timothy, 1950- author. |
| | | $t | Hidden Christmas |
| | | $d | New York : Viking, 2016 |
| | | $z | 9780735222021 |
| | | $w | (DLC) 2016044820. |
| 852 Holdings | | $a Location | PSC |
| | | $h Classification part | 232.9 Kell |
| | | $p Barcode | 2249 |
| | | $9 Cost | $0.00 |
| 856 ElectronicLocat | 4 | $3 Materials specified | Cover image |
| | | $u Uniform Resource Identifier | https://covers.openlibrary.org/b/id/7888343-M.jpg |